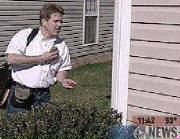 When thoroughness counts you need Inspector Paul.

I have been licensed in NC & SC for over 19 years and have performed over 9,500 home inspections in the Charlotte area, over 1,000 local Realtors, builders, contractors, code enforcement officers, and other home inspectors have hired me to inspect the home they purchased. One of my expert witness cases was awarded over $250,000.00 in a settlement against their builder. The accuracy of my reports have been verified by Professional Engineers with the State Department of Engineering and Codes during a suit against a builder and a local code inspection department. Paul is regarded as one of the best, most professional, thorough, and detail oriented home inspectors in the Greater Charlotte, NC, Fort Mill, Rock Hill, and York County, SC areas and nationwide. As an expert witness Inspector Paul's clients have always prevailed.
Paul King is a NC Licensed General Contractor, NC Licensed Home Inspector, SC Licensed Home Inspector, Certified Mold Inspector, Council Certified Indoor Environmentalist, Certified Radon Measurement Provider, and a certified member of ASHI (American Society of Home Inspectors), NCASHI, Certified Master Inspector, PAHI (Piedmont Association of Home Inspectors -Past President), IAQA (Indoor Air Quality Association).
When you hire Inspector Paul, you get Inspector Paul.

No associates, no trainees, no sub-contractors, no franchisee, no excuses.

We encourage our clients to attend their inspection.
Listed below are the standard structures and components Inspector Paul evaluates with each home inspection.

Clicking on the underlined headings will direct you to a more detailed page about each component of our inspection.

Super Service Award Winner


Hidden Water Damage Expert



New Construction Issues Investigation



Radon Gas Lung Cancer Investigation

Call: Paul King

704-467-7328 (INSPECT)

1820 Sunnyside Ave. Charlotte, NC 28204

& 201 Tom Hall St. #236 Fort Mill, SC 29715

704-307-2537-Fax



Home Fire Concerns Investigation



Mold Investigation

Thermal Imaging-Thermal Infrared


Overheated Breakers Detected with Thermal Imaging

Certified Master Inspector





Charlotte's expert home inspector



mold investigation interview

If you are considering buying a home in the Greater Charlotte, NC; Union County, NC; Fort Mill, SC; Rock Hill, SC; and York County, SC areas do not settle for just any home inspector or the one with the first available opening you should look for the best, most knowledgeable and professional home inspectors possible. Inspector Paul is often the only choice for local real estate professionals, general contractors, professional engineers, and investigative reporters because people who know the industry are aware that Paul King is by far the highest quality, most knowledgeable, professional, detailed, and hardest working home, commercial, and environmental inspectors not only in the Charlotte area, but in the nation. If you are about to spend hundreds of thousands or millions of dollars on a property you plan on moving your family into and living in for an extended period of time you should insist on the best inspector you can find to evaluate the structural, mechanical, and possibly environmental condition of the property. Inspector Paul prides himself on being one of the most recommended home inspection companies in the Greater Charlotte, Union, Fort Mill, and Rock Hill areas.
Inspector Paul's primary business is inspections, he performs over 400 inspections per year and has personally performed over 6,500 inspections in the Carolinas since he moved back in 2002. Inspector Paul is a NC State Licensed General Contractor (commercial and residential), North Carolina Licensed Home Inspector, South Carolina Licensed Residential Building Inspector, American IAQ Council Certified Indoor Environmentalist (the only mold and environmental certification with a third-party accreditation by the Council of Engineering and Scientific Specialty Boards), Certified Mold Inspector, and NEHA Certified Radon Measurement Provider. Inspector Paul is a member of ASHI - American Society of Home Inspectors, NC-ASHI, Certified Master Inspector, and PAHI - Piedmont Association of Home Inspectors-President. In addition to home inspections, Inspector Paul also performs: Swimming Pool and Spa Inspection, Radon Gas Testing, Water Quality Testing, Sprinkler System Inspection, Stucco Inspection, Condo Inspection, Town Home Inspection, Healthy Home Inspection, Mold Inspection, Mold Expert, Allergen Screen Inspection, IAQ Investigation, Expert Witness Services, and Thermal Infrared Water Intrusion Analysis.
Professional, detailed, thorough home inspections in Charlotte, Pineville, Matthews, Mint Hill, Weddington, Huntersville, Lake Norman, Waxhaw, Monroe, and Marvin, North Carolina as well as Rock Hill, Fort Mill, Tega Cay, Lake Wylie, Indian Land, York, Clover, and Lancaster, South Carolina.